Noise Blackout Extreme technology powers the Jabra GO 660 Bluetooth headset
3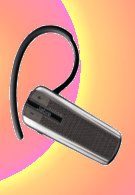 Make no mistake, Bluetooth headset manufacturers are constantly trying to innovate in this seemingly confined space, but as we've all witnessed for some time now, noise cancellation technology seems to be priority number one for most.
The latest headset making waves today is none other than the Jabra GO 660 which dubbed as being the very first Bluetooth headset to pack Noise Blackout Extreme which essentially will drown out pesky background noise without having to sacrifice voice quality. When it's combined with the Jabra LINK 320 USB Bluetooth adapter, it'll allow you to use the headset simultaneously between your handset and computer – meaning, you can be listening to some tunes on the computer with the headset and it'll pause it for an incoming call.
Now since Noise Blackout Extreme is one of the big features, it basically employs dual microphone technology which makes voices sound more natural – while eliminating background noise. When it comes down to pricing, you're going to need to shell out $110 for this beauty.
via
Engadget