Nexus One's high call quality depends on this one chip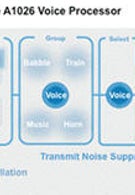 In this day and age where cellphones are more like mini computers that fit in the palm of our hand, we tend to forget that the main function of the device is as a phone. We all know that you can watch Pirates of the Caribbean on the phone and if the urge for Calamari comes over you, you can quickly Google the name and phone number of the nearest...wait-that was a different phone. Regardless, let's say you wanted to call that seafood place to make reservations. What good is all of the internet functions if no one can understand you on the phone?
Those who have had the pleasure of using the Nexus One know that the voice quality on the handset is outstanding, Even loud background voices and noises will not prevent both sides from hearing each other clearly. For this, Nexus One users have the Audience A1026 voice processor to thank. Even though Google mentioned that the phone would contain the chip on launch day, the news was overshadowed by the distribution process of the phone and some of its other qualities. If you don't have the N-One to play around with, you can go to the Audience demo site at the source link, and play the A/B clips of calls that show the difference in voice quality between a phone using the Audience A1026 and one that doesn't use it. In an email to MobileBeat, Audience says that the chip is based on the intelligence of the human hearing system and uses two microphones on a single chip to determine the primary voice in a conversation and eliminate all of the other background noises. Volume and equalization are adjusted during a call in order to make the conversation clear. Audeince is based in Mountain View, the same location where Google resides.
source:
Audience
via
MobileBeat