News Corporation to offer 10-inch tablet for students
3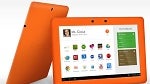 Centered around students in the kindergarten through 12th grade segment, News Corp's education division, Amplify, unveiled a 10-inch Android tablet, built by ASUS at SXSWedu in Austin, Texas.
The tablet was introduced by former chancellor of New York City schools. The initial target will be middle school aged students, and it is the first tablet that was purpose built as an all-in-one teaching and learning device.
The Amplify Tablet has connectivity to enable teachers to pull up data and gauge the progress of their students. Teachers will also be able to glean whether a student understands the lessons at hand. The user interface is designed for students to dive into the technology right away. Plus, the tablets have apps to get access to Encyclopedia Britannica, Merriam-Webster Dictionary and Project Noah.
Teachers will be able to design and deploy lesson plans and assignments through the tablets as well. In turn, students can learn and complete the assignments. Google services are part of the equation as well, with access to Google Drive and the browser is, of course, Chrome.
For specifications, the tablets are built off the ASUS Tranformer Pad TF300TL. Behind the 10-inch display is a quad-core NVIDIA Tegra 3 CPU, a 5MP camera, Android Jelly Bean and a battery which should last about 8.5 hours. The Amplify Tablet will start at $299. There is a higher-end tablet, the Amplify Tablet Plus, which will be aimed at students who do not have wireless internet access, which has a 4G data plan for $349.
source:
The New York Times
and
Amplify