New video shows off typing using the BlackBerry Torch 9860 virtual keyboard
2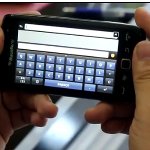 With the
upcoming BlackBerry Torch 9850/9860
, you can tell that RIM is really opening up to using the touchscreen much more with its next-generation devices, which they're hoping to be used more for inputting lengthy text.
Lucky for all of us, a new video shows off the typing experience with the upcoming BlackBerry Torch 9860 using its
virtual keyboards
. Based on the video, both the layout of the portrait and landscape keyboards appear to be uniform with their square size – and since it's rumored to be
running a 1.2GHz processor
, its operation is nearly effortless. Additionally, you'll know when you hit a specific button because of the superimposed character seen when something is pressed.
Aside from that, we're presented with some other multimedia centric functionality with the handset – like watching videos. With such a responsive rate in its typing operation, inputting text is undoubtedly looking to be a piece of cake with this one.
via
CrackBerry