New screens of Google Babel in Gmail
7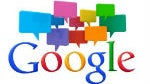 There have been a number of supposed leaks of the mobile version of Google's upcoming chat service called Babel, and now there is a new leak that claims to be screenshots of the service as it will look inside Gmail. If real, the screens are pretty interesting, because it looks less like a unification of Google's various messaging services as the plusification of Google Talk.
The rumor has been that Babel is an effort by Google to
unify its various messaging services
like Talk, Docs Chat, Google+ Messenger, Hangouts, and maybe even Google Voice, but there's no indication of that in these screens. It looks more like a redesign of Talk with more of an emphasis on Google+. As you can see in the screens, the Hangout button is getting more prominent by changing from grey to yellow. And, the most telling to us is that you cannot share photos unless you are signed up for Google+, which is surely going to cause an uptick in G+ users, and probably some blowback from those who have been trying to avoid the service (as if that's even possible anymore).
The name also seems to be confirmed with the hover dialog on the option to revert back to the old chat style. Emoticons are also getting a big bump both in detail and number. There are a ton of emoticons in there.