Google may be readying unified messaging service called Babble
20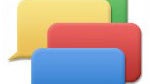 When we first saw this icon, it was in regards to Chrome OS. The icon had popped up for some Chrome OS users who were on the dev channel, but it was unclear exactly what it was. From the icon alone, it seemed to be a unified messaging service, and new reports say that's exactly what it is. Apparently, Google might be getting ready to release a unified messaging service, called Babble.
The idea that it was the logo of a unified messaging service came from the fact that not only does the logo look like chat bubbles, but Google has been careful to color coordinate different messaging services. Gmail Talk/G+ Chat has been blue, Google+ Messenger has been red, and Google+ Hangouts have been yellow. But, while Babble could unify all of those services, word has it that Babble is being built completely fresh and new from the ground up.
The idea is that Google wants to unify all of the different options into one chat window, although to be fair, the only one that's out on its own right now is the group messaging option of Google+ Messenger, which is only available through the mobile app. Hangouts are already a part of Google Talk through Gmail, and video calls are available through the Android Talk app.
The difference is that all of the different services use different protocols. Talk has been built on XMPP, G+ Messenger isn't cross platform, and Hangouts and GTalk video calls aren't the same thing. Google wants to bring them all together, so you can chat, share photos, and video call on any platform, and have your conversations threaded and synced all throughout.
Some are saying that Babble will be a competitor to Apple's iMessage or BlackBerry Messenger, but we don't agree. We'd say the real competition here is Facebook. Apple's iMessage and BBM may have similar feature sets, but they are only available on proprietary hardware from Apple or BlackBerry. Google seems to be set on bringing Babble not just to Android, but to Chrome OS and beyond. If Babble ultimately takes over for Gmail Talk/G+ Chat, it would be available on any platform. And, you can never count out Google building an iOS app.
The only other unified messaging system that is cross-platform is Facebook, although of course Facebook takes it a step father by integrating e-mail into its messaging system as well. Google would likely keep Gmail separate, and just bring together chat, video, and group messaging, but of course Google's offerings with Hangouts has far more options than Facebook's video chat.
Rumor has it that the new service will be announced at Google I/O and will include apps for Android and Chrome OS. No word on release, but usually if something is announced at I/O, it's released around the same time.