New paint job possibly in the works for the Nokia N8; looking like red at this point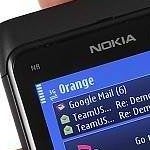 Encompassing a good array of colors under the rainbow, the Nokia N8 shows you the kind of personality it has to offer with its selection of paint jobs. Currently, the flagship device sports a total of
5 distinct colors
– these include orange, blue, green, silver-white, and dark grey.
Well, it appears that the Finnish company isn't done just yet because a posting over at the Nokia Conversation blog is asking people
to vote what new color
they'd like to see grace a potentially new "special edition model." As it stands right now,
red
is leading with the most amount votes, so it'd be very likely to see it become the next color for the handset. Other colors included with the survey are brown, pink, yellow, purple, and other – the latter of which actually holds second place in total votes.
However, it's worth noting that the new paint job might not even make it to the N8, but rather, we can possibly see it with a totally different device. Even more, the poll could simply try to obtain which is the least liked color of the bunch. We'll see…
source:
Nokia Conversations
via
Unwired View