Claimed iPad Pro 2018 schematics depict a rear design mystery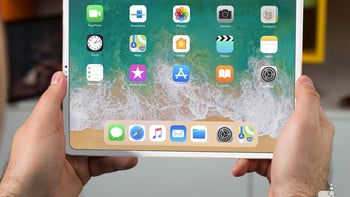 The next-gen iPads may turn out to be as revolutionary (at least for Apple) as the next-gen iPhones this year. After a tip that the upcoming
iPad Pro 2018 won't be sporting an audio jack
(the horror!), now another weird thingy has been suggested about its design.
Posted by a very credible leakster, the alleged iPad Pro 2018 CAD file you see above depicts a mysterious elliptical element sits on the back of the tablet, near the charging port. The source does warn that he can't vouch for the authenticity of this CAD schematic as he usually does, but there have already been plenty of hints about a design change in Apple's upcoming iPads, so that might be just one more thing thrown into the mix by Jony Ive and co.
The best guess so far is that it is some kind of a new dock connector, as it is sitting very close to the port, but other theories abound, too. In any case, the iPads that are supposed to land in September may sport minimum bezels and
Face ID
which could make this small detail in the CAD here a Touch ID scanner for those times you are grabbing the tablet to hold it in landscape mode.
Alternatively, the new iPad Pro 2018 may land with new accessories that would require a connector of sorts, so it's anyone's guess at this point. One thing is for sure - Apple is gearing up for a massive fall announcement event.