New high-res images of the iPad 5 in Space Gray
17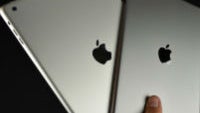 We've seen a number of leaking images and even hands-on video of the
iPad 5
casing, but most of the imagery so far has been acceptable quality at best, and downright blurry-cam at worst. Today though, we're getting a look at Apple's next full-size tablet (or at least the casing minus the display and home button) both in the standard aluminum as well as the new Space Gray.
At this point though, it's more about the quality of the images than it is about seeing anything new. Sonny Dickson has done well to consistently bring us images of what the device will look like, so there isn't much left to wonder about. The insides, while never seen yet, are also not expected to have any real surprises. The general thinking is that the iPad 5 will be powered by Apple's new A7 chipset, have the same 2048 x 1536 display, an upgraded
8MP camera
, and more than likely it will also feature Apple's new
fingerprint scanner
.
Although we haven't seen any pictures of it, we're guessing a champagne-colored iPad 5 is also a good bet (we have seen a
champagne iPad mini
). And, of course, we all know what to expect from iOS 7. That means all that's really left is the official announcement (expected October 22nd), and then the official release of the device.
Plenty more pictures at the source.