Leaked iPad 5 casing fits iPhone 5s fingerprint scanner "perfectly"
12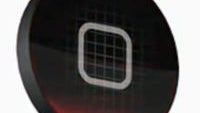 We've seen alleged leaked images of the iPad mini 2 which, if real, would confirm that Apple's next generation mini tablet is going to include a
fingerprint scanner
, but we haven't yet seen any fully assembled iPad 5 units that can confirm the same. It seems very likely that the full size iPad wouldn't be left out of the fingerprint scanner game and there is new evidence that supports that idea.
Given how long the iPad 5 casing has been floating around, we're a bit surprised that no one thought to try this before, but Unbox Therapy's Lewis Hilsenteger decided to pull apart his iPhone 5s in order to see if the fingerprint scanner from that device would fit into the home button space of the front panel of the iPad 5 that he has. Unsurprisingly, the fingerprint scanner fits "perfectly".
The fingerprint scanner is the marquee feature of the iPhone 5s because unlike the performance, battery, and camera improvements, the fingerprint scanner is the best feature to demo and hook customers in a store. People are worried about security, and theoretically this could help on that front (although there are some doubts). It would be silly if Apple were to leave out the fingerprint scanner from its top-of-the-line iPad. We expect the fingerprint scanner to be a staple of all future iOS devices.