New Yahoo apps for Android and iPhone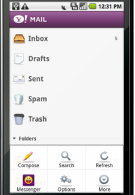 For the first time, Yahoo has developed applications for Android devices. These will run on any model running Android 2.0 or higher, but are optimized for the Motorola DROID and the HTC Droid Incredible and Nexus One. The Yahoo Mail app brings BlackBerry style-push notification to your handset and allows you to send e-mail using addresses from your contact list, upload pictures as attachments to your outgoing mail straight from the camera or gallery, offers emoticons and multi-tasking support. The look of the in-box resembles the iPhone's mail client. The Yahoo Messenger app gives you push notification of messages and can run in the background while you take care of other things. Finally, the Yahoo Search app, available only in the U.S. at this time, has auto-suggest capabilities and will link your search request to breaking news, articles and other web pages. For example, a search for World Cup will come back with current scores. You can download all three of Yahoo's Android apps for Free. from the Android Market.
Yahoo's new iPhone Web app is not a native application for the iPhone but is a mobile web site that uses HTML 5 to allow for certain features like offline access. Yahoo says that its Mail for the mobile-web is the most advanced mobile-web site it has ever created and offers full search, message and attachment previews. It is available in 8 languages for over 200 countries and you must opt in at this
link
from your iPhone or iPod Touch's web browser. The Yahoo News Web app has also been redesigned with animated effects, a new layout and new touch-based navigation. Check out the video below for more details.
source:
ReadWriteWeb