New Venus Info
5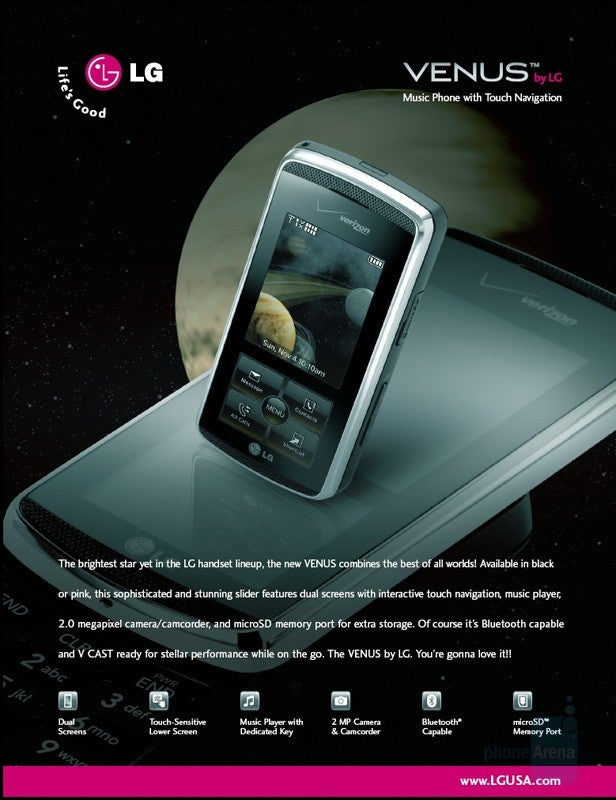 Thanks again to our tipster for sending us some new info on the
LG Venus.
The Venus is a slider, just similar to the Chocolate, but with several new improvements.
On the front of the device there are
two
Displays:
Upper: 2.0", 320x240 pixel QVGA, 262K color TFT
Lower: 1.49", 176x240 pixel, 262K color TFT
The upper display is no different than the current VX8550 Chocolate, but the lower display replaces the scroll wheel with a dynamic adaptive touch-screen. It is considered an "interactive menu system", where icons change depending on the type of program that you are using. When pressing on the icons, the phone will vibrate slightly.
The Venus measures slightly higher and wider than the VX8550, but is not as thick. The Retail Package includes the Venus (in Black or Pink), 800mAh Battery, Wall Charger, Carrying Pouch, USB Cable, and VCast Music Manager CD.
The Music Player is capable of playing MP3, WMA, ACC, and ACC+ files, and comes pre-loaded with customizable sound effects and player themes. Other features include a 2.0MP Camera (non-autofocus), Bluetooth, Speakerphone, 3G EVDO data connection, and 8GB MicroSD support.
The Venus will be available to PreOrder from Verizon Wireless beginning on Nov 8th and will launch on the 19th. Pricing is $199 after a $50 Rebate with a 2-Year Contract.