New Samsung commercial presents the Galaxy S6 as "the smartphone of your dreams"
46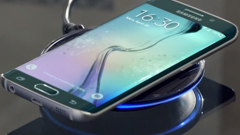 Samsung has already released quite a few
Galaxy S6
and
S6 edge
commercials and TV ads (see
here
,
here
, or
here
), and it even made a couple of
unique unboxing videos
. But that doesn't mean it's done with videos that promote the two new flagships.
The newest video made by Samsung showcases the Galaxy S6's fast charging feature, as well as its wireless charging capabilities, and the Ultra Power Saving mode (which, of course, is also available on other Samsung handsets). The video is fun to watch, and ends with Samsung saying that you could just call the S6 "the smartphone of your dreams." Sure enough,
dream phone
is a subjective term, and not everyone will find exactly what they need in the Galaxy S6, or the Galaxy S6 edge. However, it's interesting to see how confident Samsung is about its new handsets. But perhaps we shouldn't be surprised about this, since Samsung expects Galaxy S6 and S6 edge sales to
reach 70 million units
.
Have you bought, or do you plan to buy a Galaxy S6, or an S6 edge? If yes, would you say about any of the two that it could be the smartphone of your dreams?