Samsung's Galaxy S6 edge unboxing videos are like nothing you've seen before
70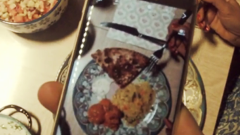 Usually, unboxing videos are quite boring, and rarely provide details that you didn't already know about. That's why Samsung decided to unbox its
Galaxy S6 edge
in a unique manner.
As you'll see, Samsung's videos are less about unboxing the handset, and more about not boring the viewers. There are two videos to watch, the first presenting a black sapphire Galaxy S6 edge, and the second one showing the handset's gold platinum version. Mind you, the first video could very well have received a PG rating (if it were a movie), due to its often violent nature.
Samsung didn't make unboxing videos for the regular
Galaxy S6
, likely because the S6 edge is the one that
drew more attention
from the media and consumers, while also being the most expensive among the two new Galaxies (it's even
more expensive to manufacture
than Apple's iPhone 6 Plus).
Both the Galaxy S6 edge and Galaxy S6 are available to buy in various markets around the world (including the US) since last week. Did you buy one yet? Or do you plan to get one sometime soon?