New Nokia Lumia 1020 ad takes a jab at iOS and Android, brags about having the best camera
99+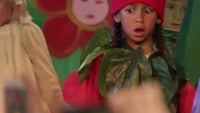 Nokia is not afraid to throw a punch at Android and iOS, and after the release of the
Nokia Lumia 1020
with its
41-megapixel OIS camera
leading the way in smartphone photography, it has solid bragging rights. This latest Lumia 1020 ad lies on those bragging rights as Nokia once again mocks iPhone and Android users comparing them to a mindless horde always trying to take pictures, but never managing to capture the moment.
Among that horde, there is an exception. A couple in the back that does not need to get in the fussing and fighting, the enlightened Lumia 1020 users.
The commercial is a pure theatrical scene, as if taken from a good comedy, where the hero is you, if you are using iPhone or Android. A gradual increase in the chaos reaches a climactic crescendo at the end where the only sane users appear to be those using the camera of the Lumia 1020. Well done, Nokia.