New Ematic FunTab kid slates run Android, promise to keep your offspring busy on a budget
2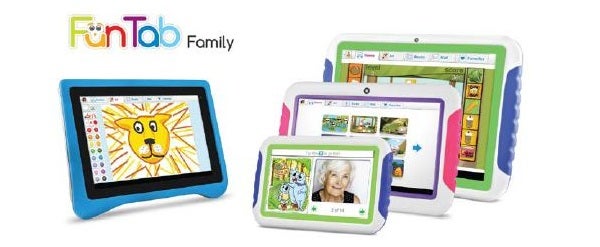 If you have a kid, you've no doubt realized the entertainment potential of tablets and smartphones for them, and the me-time potential for your own overwhelmed self.
Not every tablet is suitable for child's play, though, and we are talking content, not only durability, so dedicated children slates are certainly a market niche that needs its entries.
Enter the Ematic FunTab and its varieties. Running Android 4.0, they range in price from $60-$150. The top-shelf price gets you a
FunTab Pro
with a 7" screen or a
FunTab XL
with a 9.7-incher, dual-core 1.2 GHz processor, 1 GB RAM and 16 GB storage. The FunTab Pro keeps it leaner with a 1 GHz dual-core CPU, has swappable faceplates in different colors and promises 8 hours of battery life.
Both the above tablets have an HDMI port, but if you can make do without one, Ematic will shave off $20 to arrive at the $130
FunTab
, whose specs are otherwise identical to the Pro version.
Finally, if you want to get very downmarket, you can actually get away with $60 for a 4.3"
FunTab Mini
that weasels away with a 480×272 display, 1GHz processor, 512MB of RAM, 4GB of storage, and a rear camera - nothing to call a Tab here, we know.
Most importantly, the kid-friendly slates are preloaded with the "
Zoodles" kid friendly mode that is designed to create "a safe and educational online learning experience for children,
" says the company, and that might be enough for you to pull the trigger on one for your restless offspring. The whole suite can be purchased at Walmart for added convenience.
Ematic Announces the FunTab Family with Zoodles Kid Mode: A Series of Educational, Entertaining Tablets for Children

The FunTab line is a growing family of four tablets varying in size and style; Full series to be revealed at Consumer Electronics Show 2013 in Las Vegas
LAS VEGAS- January 8, 2013- Ematic, a leader in value tablets, heads to Las Vegas to reveal the full FunTab Family line during the Consumer Electronics Show 2013. This series of child-friendly tablets come four different sizes and styles with one common mission: to offer children a unique and safe online experience for education and entertainment. The series is a product of the creative minds at Ematic in collaboration with the award-winning Zoodles Kid Mode.

"There are plenty of children's tablets on the market right now; but, we [Ematic] want to offer parent's a platform that creates a safe haven for kids to learn and play," says Roy Rayn, President of Ematic. "The FunTab Family offers the best of both worlds: a great time for kids and peace of mind for parents."

The FunTab Family is comprised of the FunTab Pro, FunTab, FunTab XL and FunTab Mini. Each tablet is powered by Android's 4.0 operating system, Ice Cream Sandwich, and comes packed with features and games to keep your child busy for hours. Some exciting new features included on the tablets are Interactive Story Books and Art Studio.

Children can use the Video Mail function to send video messages to grandparents and other relatives. It is a great way for family members to connect and keep in touch anytime, anywhere. Today's most popular games also come preloaded on all the tablets including Angry Birds, Where's My Water?, Cut the Rope and more. Durable and resilient, Ematic innovated a rubberized grip ideal for active children on the go.

Parents can access Zoodles.com from any computer to track and control their child's activities. Zoodles gives a detailed report on the child's educational progress, a gallery of their artwork and storage to record video messages.

The FunTab XL has a 9″ capacitive, multi-touch IPS screen for easy viewing of multimedia content. It has a 1.2GHz processor with 400 MHz GPU and 1GB RAM with16GB of internal storage. HDMI mirroring allows the child to watch videos and play games on any HDTV. The FunTab XL supports has front and rear cameras. It retails for $149.99.

The FunTab Mini is a scaled down version of its counterparts. It's portable with a 4.3″ 480X272 touch screen. It has a 1GHz processor, 512MB of RAM, 4GB of internal storage, and a rear camera. It retails for $59.99.

The FunTab is a 7″ capacitive touchscreen device with 1.2 GHz processor and 400 MHz GPU.

The FunTab comes with front and rear cameras, and the battery allows for 5.5 hours of continuous playtime. It is available in blue/green and pink/purple. The FunTab retails for $119.99.

The FunTab Pro is a 7″ tablet with a 1GHz processor and dedicated GPU. It comes with front and rear cameras, and the battery allows for up to 8 hours of continuous playtime. The FunTab Pro features an HDMI output to connect your device to a television to view videos, play games and enjoy other multimedia content in 1080p. Users can customize this tablet with the included interchangeable faceplates which come in blue, pink and red. The FunTab Pro retails for $149.99.

The FunTab Family is available at walmart.com