New CyanogenMod 12 build fixes touchscreen, Bluetooth and MMS issues on the OnePlus One
4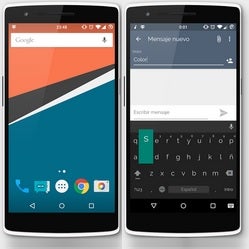 Cyanogen and OnePlus' partnership may have
come to an end
recently, but the maker of the CyanogenMod software continues to provide support for devices running its software. This includes, of course, the
OnePlus One
, and a new build of CM12 has arrived to fix the touchscreen issues that have afflicted the handset.
The OnePlus One has proved a popular device for its robust feature set and low price. One of the other main draws is its software, running the popular CyanogenMod software atop Google's Android. The OnePlus One has had its fair share of issues, though, namely with regards to responsiveness of the touchscreen, and while CM11 did provide a fix, the arrival of CM12 atop Android 5.0.2 has prompted those old bugs to resurface.
If you've been running CM12 and found the touchscreen to be a little buggy on your OnePlus One, then the remedial update is now good to go. The build numbered YNG1TAS2I3 is ready to be installed from fresh, or there's an OTA update that can be flashed from recovery.
As well as tweaking the touchscreen sensitivity, the update provides fixes to Bluetooth connectivity for in-car systems, and also sees to MMS-related woes on a number of carriers.
The ROM is 566 MB in total, while the OTA is just over 20 MB. Both can be found at the source.