New Christian Dior handsets for eager fashion lovers
This article contains unofficial information.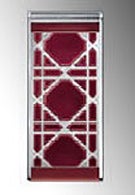 The new lineup of handsets aimed at fashion-savvy people by
Christian Dior
rolls out December, reports Mobile-review. The trendy gadgets cost an arm and a leg, but anyone willing to shell out for one of these will be able to get an exquisite device that looks like piece of fine art. Cell phones coming in rectangular, clamshell form factor and various colors, strewn with gems and precious metals - these are the catch words that characterize the handsets of the new lineup
The relatively modest amount of $6,500 can get you a cell phone featuring gold plated body, sapphires and black PVD coating. Two of the models will be exclusively available through personal orders only, namely the Zelie and Zenaide, coming in red and white respectively. They diamond-covered Zenaide will set you back with $13,400, while the more affordable Zelie is "just" $7,900. In case you feel indulgent and don´t mind spending some petty cash on top of that, you will be able to get yourself the Nacre, the only model adorned with pearls, for $8,700.
It´s anybody´s guess what the specifications of the handsets are, because no official information has been released yet. Finally, you can sweeten the pot and make your wife really happy by getting her not just one of the new gems, but a Bluetooth headset dressed in black and white precious stones and a single sapphire. The accessory by Christian Dior has been available for a month now and looks quite affordable with its price tag of $470, at least alongside of the above-mentioned monetary values.