New Bento Android launcher project aims to redefine personalization
1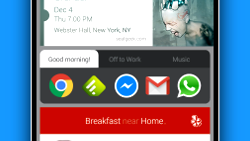 There are many launchers out there that promise a ton of personalization and individuality, and some, like
Aviate
, Google Now, or
EverythingMe
, even manage to adapt to your daily lifestyle to a greater extent. There is a new kid arriving soon on the launcher block, though, which kind of combines the best of the above, and strives to change completely the way we think about interaction with our phones - like, a screen with app icons and widgets on it.
To fulfil this premise, Bento means to use the cards system, but not in the way that Google Now uses it. Bento plans to go much deeper with the timely snippets of information available to you at any given moment. The gist of it is in the short video below, but Bento will have suggestions to you from the moment you wake up (weather, breakfast places), and throughout the day, digging up relevant apps you might have even forgotten you've installed on your phone, based on the occasion and location, too. Thankfully, it doesn't try to guess everything seamlessly like Google Now, but actually asks about your work and home locations, for instance, upon initial setup. Then it proceeds organizing your apps in groups, or "spaces," on separate screens automatically, but you can revamp those at will, too.
Here is where Bento starts carving its own niche amongst all those launchers that arrange your apps in folders automatically, and against Google Now or the rest of the personalized offerings. The "cards" it will use for popular tasks are actually standalone entities - you don't need to have YouTube installed to enjoy the YouTube card, for instance, but can have the full functionality and interaction within Bento itself. The services that are listed at the moment, are as follows: Weather, Calendar, Reddit, Uber, Yelp, SoundCloud, YouTube, Notifications, Lyrics, Events by Seatgeek, ESPN CricInfo, and contextual app recommendations - with many more to be added when the Bento launcher gets out of beta, and hits the Play Store. Check it out in the video below, and sign up for the beta testing if you are interested.
| | |
| --- | --- |
| Developer: Bento Labs | Download: Android (signup req'd) |
| Category: Personalization | Price: Free |
Recommended Stories