New AT&T ads want you to Rethink Possible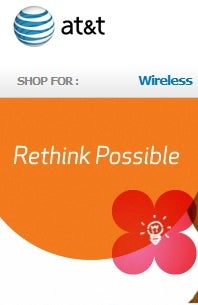 We've all seen those AT&T ads over the past few months featuring dopey
Luke Wilson taking jabs at Verizon
, and as the battle played out over Verizon's "
There's a Map for That
" ads...including a few
lawsuits
. Now it appears that AT&T is looking to rebrand themselves with a new catch-phrase
Rethink Possible
. Esther Lee, Senior VP-Brand Marketing and Advertising for AT&T stated, "It's not going to be the old model that there's brand work, and then there's consumer work or enterprise work; it's all 'Rethink Possible'. All of our communications across all of these channels is 'Rethink Possible' and this integration of design." The first TV commercials to use the new branding was shown during The Master tournament which began this week. The desired result is to re-shape what people think of AT&T, away from a strictly telecommunications company to an innovation company. Ms. Lee further stated, "There's so much innovation happening at the company that I think people don't know. We spend an average $18 billion to $19 billion a year on our network, our technology and our inventions in order to drive the future of how people are going to live on our network." With the exclusivity deal ending this year between AT&T and Apple, and with other carriers expected to get the iPhone in time (such as
Verizon
), it is only natural for AT&T to rebrand as they want to "get past the competitive conversation and talk about what's in it for the consumers." There's no word yet on the fate of Luke Wilson, but he's also being used on new AT&T U-Verse commercials as well.
source:
BusinessInsider
and
AT&T