Verizon's response to AT&T: "The Truth Hurts"
42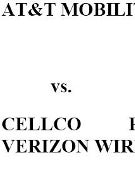 In the most recent action in the Hatfield-McCoy feud, AT&T released the contents of a memo describing the widespread reach of its cellular coverage including
EDGE
. Prior to that, AT&T had released its lawyers on Verizon and asked a Federal Court to force Big Red to stop running the infamous Verizon ads that compare the 3G coverage of both firms nationwide. As we told you, AT&T never denied that the maps were true; the wireless operator was pointing out that the lack of 3G coverage on AT&T's map made it appear as though it offered no service in those areas. The truth is that AT&T does offer service in those locations - just not 3G service. For its part, Verizon puts a subtitle on the screen explaining this, while the maps are being displayed. For AT&T, it is not enough. After the latter firm filed the suit, by law, Verizon is supposed to respond, and respond they did. The introduction of the response says, "AT&T did not file the lawsuit because Verizon's "There's a map for that" advertisements are untrue; AT&T sued because Verizon's ads are true and the truth hurts." Wow! Maybe we can get this settled on the Judge Judy show. There is more from Big Red, "In the final analysis AT&T seeks emergency help because Verizon's side-by-side, apples-to-apples comparison of its own 3G coverage with AT&T confirms what the marketplace has been saying for months: AT&T failed to invest adequately in the necessary infrastructure to expand its 3G coverage to support its growth in smartphone business, and the usefulness of its service to smartphone users has suffered accordingly." Check out the filing by hitting the source link.
source:
USDistrictCourt