Netflix releases El Camino: A Breaking Bad Movie, to rave reviews
3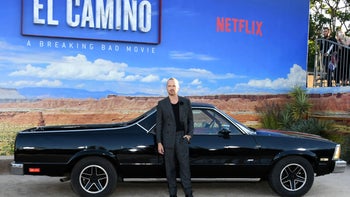 Today is the day, folks! Free market competition is great! When rivals started
popping up
left and right this year, Netflix rose to the occasion, and managed to plan and shoot such original movies like The Irishman with Al Pacino and Robert De Niro, and the Breaking Bad offshoot El Camino, starring Jesse Pinkman (Aaron Paul).
While The Irishman is to be released nearer to the holidays and Thanksgiving season, El Camino's release date is today, and Netflix has populated its home page with a big splash screens so that even those that are uninitiated can catch a glimpse.
The story basically picks up where Breaking Bad left it off, so even if you haven't watched the series, El Camino would stand on its own. The TV show finale saw Aaron Paul's fugitive Jesse Pinkman become a fugitive after Bryan Cranston's Walter White, a.k.a. Heisenberg character, was thought to be dead by a stray bullet in the meth lab after a sweet revenge against the gang leader Jack (Michael Bowen) for the murder of brother-in-law Hank (Dean Norris).
In the process, Walter secured the saving of his high school chemistry student Jesse Pinkman, who ended on a relatively high note, driving off in the legendary El Camino, hence the title of the new Netflix movie. Critics love it, and you should watch it before the spoilers start hitting your eyes and ears everywhere online.
Here's what else you can expect from Netflix in the typical Friday weekend dump of new titles:
El Camino: A Breaking Bad Movie — NETFLIX TELEVISION EVENT
Written and directed by Breaking Bad creator Vince Gilligan, the Netflix Television Event EL CAMINO: A BREAKING BAD MOVIE follows fugitive Jesse Pinkman (Aaron Paul) as he runs from his captors, the law and his past.

The Forest of Love — NETFLIX FILM
Auteur Sion Sono helms the fictionalized retelling of how one charismatic leader led his followers down a bizarre, gruesome, deadly and depraved path.

Driving home after a tense holiday weekend with his in-laws, Ray Monroe (Sam Worthington), a well-meaning but overwhelmed family man, pulls into a rest area with his wife Joanne (Lily Rabe) and daughter Peri (Lucy Capri). The trip takes a turn for the worse when Peri is hurt in an accident and the family rushes to a nearby emergency room run by a staff with dubious intentions. After being sent away for further testing Peri and Joanne vanish and all records of their visit disappear. Ray's concern turns into a desperate race to find his family and discover the truth of what happened to them.
Haunted: Season 2 — NETFLIX ORIGINAL
In an all-new season of true-life terror, real people recount unsettling run-ins with demons, ghosts and more, as told via dramatic reenactments.

Insatiable: Season 2 — NETFLIX ORIGINAL
In season two of Insatiable we find Patty dealing with, well, a lot. Her past is haunting her, and her struggle to be "good" is becoming harder and harder each day as she battles her inner demons. And Bob – well – he's helping her cover up Christian's murder, but just how far will his loyalties go? Will he continue to allow his romantic relationships, his career ambitions, and his integrity to take a beating, just to help Patty pursue her pageant dreams? And when beauty queens start going missing, who's to blame? Patty's rage? Or is there more at play?

La influencia — NETFLIX FILM
Back in her childhood home to care for her comatose mother, Alicia is forced to face a past she thought she'd buried and a body that refuses to die.
Plan Coeur: Season 2 — NETFLIX ORIGINAL
Four months after bidding farewell to her BFFs, Elsa stages her return to Paris. But guilty secrets take a toll on her love life and her friendships.

The Awakenings of Motti Wolenbruch — NETFLIX FILM
Pressured to marry a nice Orthodox Jewish woman, Motti is thrown for a loop when he falls for classmate Laura, who his mother will never approve of.

YooHoo to the Rescue: Season 2 — NETFLIX FAMILY
In a series of magical missions, quick-witted YooHoo and his can-do crew travel the globe to help animals in need.
Banlieusards — NETFLIX FILM
Noumouké, 15, must decide which of his brothers' footsteps he'll follow: law student Soulaymaan or mobster Demba. Directed by Kery James and Leïla Sy.