Nebula Zoo now available as a free download for BlackBerry 10 devices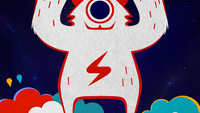 BlackBerry's 25 Days of Gifts campaign is not the only good news for BlackBerry 10 users this December. Lately, we've informed you about several other promotions concerning the platform of the Canadian company. And yet, today we have a new piece of information for all BB 10 users out there who love to waste their spare time by playing games on their smartphones. The so-so popular game Nebula Zoo recently landed on BlackBerry World as a free download. It is developed by ClueLogic and has already been released for iOS and Android, but only the BlackBerry version is free to download and play.
Nebula Zoo is a side-scrolling space shooter, which lets you become the ultimate interstellar poacher. According to the developers, the game will put your reflexes and reactions to the test. The goal of Nebula Zoo is to fly your cartoonish spaceship over several oddly looking planets and evade obstacles and alien enemies while collecting various extraterrestrial animals, which are to be put in your personal zoo. This might sound somewhat complicated, but in fact the gameplay is extremely simple – all you have to do is control the altitude at which your constantly moving space craft is flying at. While you are flying and evading the dangerous obstacles, you can also pick up some randomly spawning power ups.
''Where's the challenge?'', some gamers may ask. Well, here comes the tricky part about Nebula Zoo's gameplay: the levels are endless, and as if this is not enough, every 30 seconds or so the speed of your spaceship will increase, thus making it harder for you to avoid the obstacles. This will surely make the game quite hard as the levels progress, especially if your reflexes are not that sharp anymore.
Nebula Zoo is free, but once you download it, you can buy the full version via an in-app purchase, which features more content, such as more animals to collect and additional planets to fly over. Unfortunately, the game is only compatible with touchscreen BlackBerry 10 devices – at the moment these are just the BlackBerry Z30 and the Z10.
Download: Nebula Zoo (
Blackberry
|
iOS
|
Android
)
source:
ClueLogic
via
CrackBerry