Nearly 75% of all smartphones sold in Q1 were Android, Galaxy S4 expected to "be very popular"
39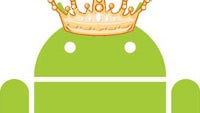 We've long said that in smartphones we have a duopoly between Android devices and Apple's iPhone, but judging from these latest numbers it is starting to look more and more like an Android monopoly.
Android phones accounted for 75% of all smartphones sold
in the first quarter of the year.
Apple's iOS came a distant second
with an around 18% share. Other platforms had a marginal share - BlackBerry outsold Windows Phone and the two had shares of 3% and 2.9% respectively.
But what's really interesting is that Android's biggest flagship had not yet arrived in Q1 and will make their biggest impact in the second quarter of the year.
"We expect the new Galaxy S4 to be very popular despite being more of an evolution than a truly revolutionary device compared to the S3,"
Gartner principal research analyst Anshul Gupta said.
Outside of smartphones, the biggest news came from Nokia's catastrophic loss of volume in feature phone sales. Take a look at the numbers that tell the whole story right below.
source:
Gartner