NBA MVP Stephen Curry, Jamie Foxx star in new Apple iPhone 6s ads
20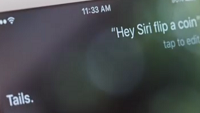 The other day, we showed you
a new ad for the Apple iPhone 6s that starred comedian Bill Hader
. The ad focused on the ability of
Apple iPhone 6s
and
Apple iPhone 6s Plus
users to call for Siri's help hands-free by saying "
Hey Siri
." Previously, that feature was available to those using iOS 8, but only if their iPhone was plugged in.
Today, we have two new ads for the iPhone 6s to show you. The first one is also about activating Siri hands-free, and stars Jamie Foxx. The actor is apparently deciding between two roles to pick from. With his iPhone propped up on the dresser, he activates Siri by saying "
Hey Siri,
" and asks her to flip a coin. The result? "
Sci-Fi Western it is
," says Foxx.
The second ad displays the Live Photos feature that shows 1.5 seconds of video before and 1.5 seconds of video taken automatically after you've snapped a photo. By pressing hard on the screen using 3D Touch, the photograph seems to come alive. Demonstrating this is the NBA's best pure shooter, MVP Stephen Curry. The Warrior's guard is photographed in the process of following through after taking a shot from half court. Using 3D Touch, we see video of the 1.5 seconds before, and the 1.5 seconds after the photo was taken, revealing that he made the shot.
Check out both ads by clicking on the video slideshow below.
source: Apple (
1
), (
2
)