Move over, Apple and Samsung: Huawei Ascend Mate 7 features a single-touch fingerprint scanner - "industry's fastest"
47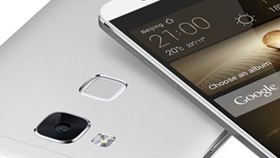 Huawei just unveiled two very interesting Android handsets at IFA 2014: the 5.5-inch
Ascend G7
and the 6-inch
Ascend Mate 7
- the latter being the company's newest extra-large flagship smartphone.
One of the Mate 7's features that Huawei is really proud of is its fingerprint sensor that's found on the back of the device. This seems to be using a new technology, allowing users to unlock the Mate 7 with a single touch, in just one second. Huawei says its fingerprint sensor is the "fastest in the industry," and works with both dry, and wet fingers. The company compares its single-touch scanning to the "tapping 2-step scanning" offered by Apple, and the "swiping 2-step scanning" of Samsung and HTC (the One Max has a fingerprint scanner located in the same place as the one of the Mate 7). Obviously, Huawei claims that its solution is faster and better.
Sure enough, we'll have to wait until we can properly test the Ascend Mate 7's fingerprint sensor before we can say if it bests the sensors from Apple, Samsung and HTC. The Mate 7 should be available to buy before the end of this quarter for prices starting at €499. Are you intrigued by this handset, or do you think it's not going to make an impact among all the other high-end devices out there?
source:
Huawei
(Twitter)