Huawei Ascend Mate7 Review
44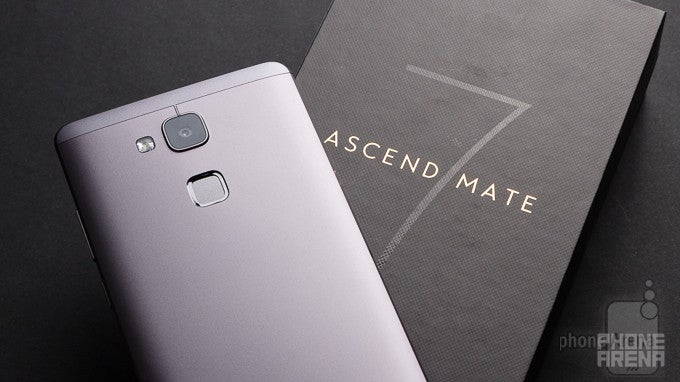 Introduction
Hot on the heels of Huawei's announcement of the
Ascend Mate7
at IFA 2014, it's the perfect time to take the company's new high roller for a spin. There's much about the latest Huawei flagship that sets it apart from the crowd – it's got a very large, 6-inch screen, a metal body, a speedy new processor, and an industry-leading fingerprint sensor implementation. If that wasn't enough, the company has also endowed the Mate7 with a 13-megapixel rear camera and a massive, 4100 mAh battery, all fitted within a slender, 7.9 mm profile.
Is the Ascend Mate7 as good as its specs suggest, and can it compare with what the competition has to offer? Let's find out!
In the box:

In-ear headphones
2A wall charger
microUSB cable
SIM ejector tool
Design
The Mate7 covers all bases: slim profile, premium materials used with the body, and sturdy overall construction.
Based on looks alone, the Huawei Ascend Mate7 is an easy sell. The device's rectangular form with rounded corners isn't anything new or different by any means, but it has to be said that its metal back is very attractive and fairly neat.
So what about ergonomics? Obviously, this is a pretty large device by most standards, though there are a few things to keep in mind. First and foremost, thanks to its
extremely
thin bezels, the Ascend Mate7 is among the most compact 6-inchers on the planet, measuring "just" 6.18 x 3.19 x 0.31 inches (157 x 81 x 7.9 mm), and it's actually not much larger than the 5.7-inch Samsung Galaxy Note 4, and almost on par with the new 5.5-inch Apple iPhone 6 Plus. However, don't misunderstand this to mean that you can comfortably operate this phablet with one hand – you're still better off with two – but any savings in dimensions when talking such large devices are definitely welcome.
Looking at the rear of the Mate7, it's where you'll find the touch fingerprint sensor, with its large square opening and chrome edge, but more on that later. Immediately above it sits the camera and the LED flash, while a small grill opening for the loudspeaker can be found on the bottom left. While still on the topic, we definitely like the ever so slightly rounded backplate, as it tapers off at the sides, providing a comfortable grip.
Turning the Mate7 sideways, we've got both the power button and volume rocker comfortably placed on the right, within a thumb's distance. The two are made out of metal and provide great tactile feedback and travel time.
Display
Pretty darn good, this one. But not perfect.
As touched on already, the Ascend Mate7 has a pretty massive, 6-inch display. The IPS LCD panel has a pixel resolution of 1080 x 1920, good for 367 pixels per inch. Obviously, this isn't a record-setting pixel density, but the image is still very crisp.
The maximum brightness the screen on the Mate7 can achieve peaks at a little over 480 nits, which is good, and in our experience provided a very adequate viewing experience outdoors. The screen also has a good color temperature of 7111 K (6500K being the reference value), meaning that it's only slightly colder-looking than it should. As for the color accuracy of the display, Huawei has done a very good job – the average RGBCMY color error (Delta E) is 2.89 – and hues on the whole trail their target values fairly closely, with the exception of magenta. As for the rest, we're generally looking at small deviations that either push a color's specific intensity over or under the ideal saturation threshold. Lastly, gamma, at 2.25, is excellent.
Display measurements and quality
Recommended Stories