Motorola shows off 4K video shot with the Moto X and a drone
5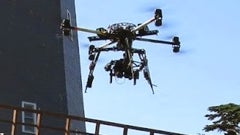 Released in the US in September, the second-generation
Motorola Moto X
brought many improvements over the original model, including in the camera department. The new Moto X features a 13 MP rear camera that can shoot 4K (3840 x 2160 pixels) video.
When we
reviewed the Moto X
, we found that its video recording capabilities were quite good. Now, Motorola is showing us what can be done when a Moto X, a drone, and a professional drone operator come together. The Moto X was attached to the drone, which took the handset over San Francisco to capture some aerial footage of the area. The resulting video is certainly pretty cool, but we assume that other smartphones capable of shooting in 4K would have provided comparable, if not better results in the same scenario. A few weeks back,
Samsung also used a drone
to record 4K video with its Galaxy Note 4.
It seems that Motorola didn't upload the video on YouTube in 4K, but only in 1080p, so if you have a 4K display you won't be able to watch it at its original resolution. Even so, there are
advantages of watching 4K content
even if your display doesn't support this resolution. This being said, check out Motorola's video below: