Motorola goes touchscreen with the Evoke QA4
21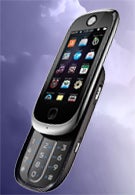 Last time we saw this one, it had just received
FCC's approval
. Luckily, the reason for this article is not another leaked photo or document, but an official press-release by the manufacturer itself. The
Evoke QA4
is the latest Motorola device targeted to fans of social networking. The key feature of the phone is its touch-sensitive display, measuring at 2.8 inches in WQVGA resolution. Sliding the phone open will reveal a numeric keypad for quick SMS typing, for example. Popular social sites such as MySpace and YouTube will be easily accessible thanks to the phone's widgets. We hope that surfing will be pleasant with the full HTML browser, and that the 2-megapixel camera will deliver quality good enough for online sharing. In our view, the touchscreen Motorola Evoke QA4 is cute and definitely deserves attention. It will be available for purchase in Q2 2009. At what price? Well, how should we know? Ask Motorola. Strangely enough, the phone is designed to work with CDMA network, but it isn't announced which would be the carrier to offer it.
*Update* According to
PCMag
, the Evoke will be available with Cricket.
Motorola Evoke QA4 Specifications
source:
Motorola