Motorola Occam and Manta shown running Android 4.2 with benchmarks
22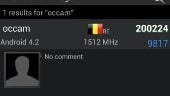 A few days ago
we reported
that two new Motorola devices, called the Occam and Manta, had shown up in the Android Police logs running Android 4.2 Jelly Bean.
The
Occam
(think Occam's Razor - or RAZR) smartphone is now listed in the AnTuTu Benchmark database of tested devices. It received an
overall score of 9817
, but shows a CPU frequency of 1512 MHz. Some speculation is that it could be using a quad-core processor to achieve that score, as well as a CPU Integer rating of 3670, or it could still be using the current Snapdragon S4 processor that is in the Motorola DROID RAZR M, and those higher scores show how much faster Android 4.2 JB is over the current Android 4.1 JB and 4.0 ICS.
Then there is the
Manta
tablet, which is shown with an overall AnTuTu Benchmark
score of 8077
and is using a 1.7 GHz processor. We know that Motorola loves its code names, and their the XOOM tablet had the code name of Stingray for Verizon, and Wingray for the Wi-Fi model.
All of this adds fuel to the fire that there will be a new Motorola smartphone and tablet released (hopefully in the near future) that will come running Android 4.2 out of the box. Still, at this early date, it remains to be seen which carriers will offer the devices, and what their list of hardware features will be.
source:
theandroidsoul