Motorola Moto G7, G7 Power, and G7 Play are now super cheap with a new Verizon line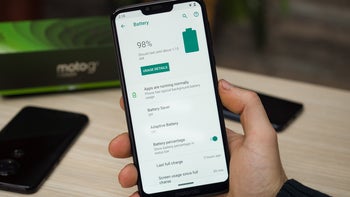 A few months back, when
Verizon Wireless released
the
Motorola Moto G7 Power
, it sold it for half price ($120 instead of $240) to customers willing to activate a new line of service. The carrier is still doing that, but, if you want to get the G7 Power (pictured above) at a truly killer price, you should purchase it from Best Buy.
At this very moment, Best Buy lets you snag a Moto G7 Power for only $79.99 when you activate a new line or open a new account at Verizon. What's more, Best Buy also has unbeatable prices on the regular
Moto G7
and the lower-end
Moto G7 Play
on Verizon, but the same condition applies - a new line or new account is required. If said condition is met, the Moto G7 costs only $149.99 (that's 50% off the regular price of $299.99) while the Moto G7 Play can be yours for a measly $49.99 (instead of the full price of $199.99).
Get these Moto G7 deals at Best Buy HERE

If you need to upgrade an existing Verizon line, you can still get discounts on these three Motorola phones, although you'll be saving only $50 on each. Specifically, with a Verizon upgrade, the Moto G7 costs $249.99, the Moto G7 Power is priced at $179.99, and the Moto G7 Play is listed at $149.99.
If you're not a Verizon customer and don't intend to become one, Best Buy has Moto G7 deals for customers of AT&T and Sprint, too, although these aren't different from what's
been offered before
.
Recommended Stories