Motorola Moto G7 hits lowest price yet at Best Buy (Sprint, Verizon, and AT&T only)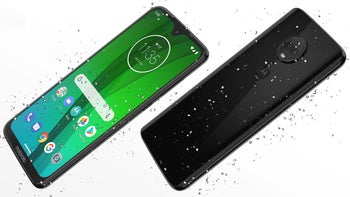 Officially released in the US three months ago, the
Motorola Moto G7
is one of the best affordable smartphones on the market. While the handset's regular price is $299.99, Motorola is
currently selling it for $269.99
, thus letting you save $30. But we discovered that you could save an unprecedented $130 on the unlocked Moto G7 if you get it from Best Buy with the intention of using it on Sprint. In these conditions, the phone now costs just $169.99 - the lowest G7 price to date.
To purchase the Moto G7 for $169.99 from Best Buy, you will have to activate it immediately on Sprint. The deal does not necessarily require a new line, so it's also aimed at Sprint customers who only need to upgrade an existing line. This seems to be a limited time offer, although Best Buy doesn't say when it's supposed to expire.
Get the Moto G7 from Best Buy HERE
Best Buy also lets you save on the Motorola Moto G7 if you plan to activate the device on AT&T or Verizon. But you only save $80 this way, as the phone is priced at $219.99. Previously, with activation on Verizon or AT&T, the G7 was sold for $249.99, so $219.99 is still the lowest price yet in this scenario. If you want to activate your Moto G7 on any other carrier (including T-Mobile), Best Buy can sell it to you for $269.99 - that's the same price you'll find at Motorola.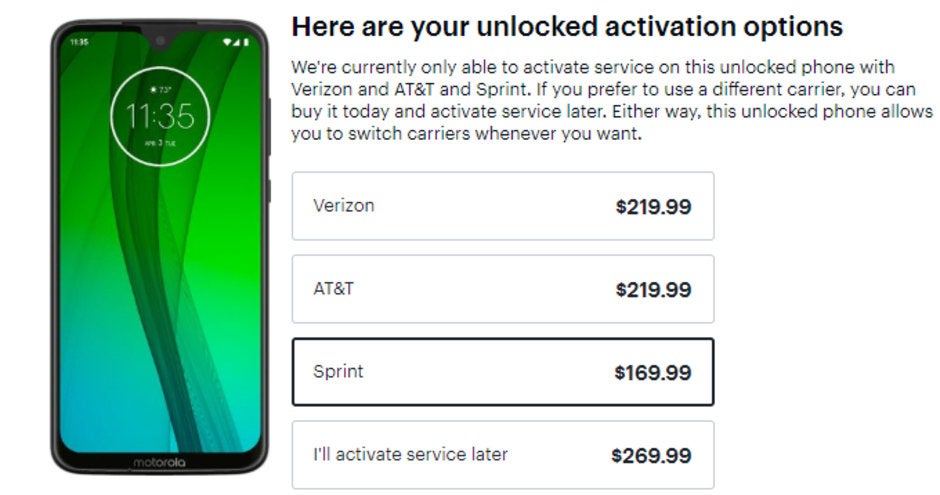 The Motorola Moto G7 runs Android 9 Pie (with a clean user interface) and, for its price range, it offers an attractive set of features. The smartphone sports a 6.2-inch display with 1080 x 2270 pixels, has decent amounts of RAM and storage space (4 GB and 64 GB) and is powered by a not-too-bad octa-core Qualcomm Snapdragon 632 processor. Other features include splash resistance, a 3.5mm headset jack, a 3000 mAh battery, and a 12 MP dual rear camera. You can take a closer look at this Motorola handset in our
Moto G7 review
.