Moto G7 vs Moto G6: is it worth upgrading?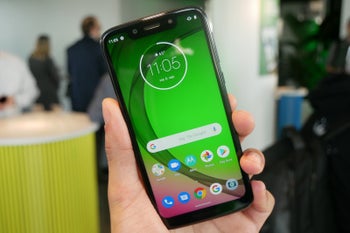 Motorola has just officially lifted the cover off its new
Moto G7
series and there will be four new phones in the series: the main Moto G7 model, a battery-centric
Moto G7 Power
, a super affordable G7 Play version and the G7 Plus with the most powerful hardware, but also the only one that will not be sold in the United States.
So... should you upgrade to a Moto G7 series phone if you are using a
Moto G6
right now?
We compare two of the Moto G7 phones that will be widely available in the United States this spring: the $300 Moto G7 and the more affordable, Moto G7 Power with a 5,000 mAh battery, the spiritual successor of the
G6
Play, which also had a large battery.
Moto G7 vs Moto G6
Faster processor and upgraded cameras, plus the new Android Pie with gestures
Moto G7
Moto G6
Size & Weight
157 x 75.3 x 8 mm
172 g
153.8 x 72.3 x 8.3 mm
167 g
Screen
6.2" LCD
1080 x 2270 px
5.7" LCD
1080 x 2160 px
Processor
Snapdragon 632
Snapdragon
450
RAM
4GB
3GB
Storage
64GB + microSD
32GB/64GB
+ microSD
Cameras
12MP+5MP dual rear cam
8MP front cam
12MP single rear cam
8MP front cam

Battery
3,000 mAh
3,000 mAh
Price
from $300
down to $230 now
The big difference in the Moto G7 is clearly in the processor: Moto has now included a Snapdragon 6xx series chip inside, a big step up from the Snapdragon 4xx chip in last year's model. You also have the basics covered with a reasonable 4GB of RAM and 64 gigs of on board storage with the option to expand the memory via microSD cards.
The other big upgrade is in the visual style: gone are the big bezels and here you have a more elegant teardrop notch and overall thinner bezels on the G7 (but still you have a rather big chin). One thing that has not changed much is the size of the battery, so battery life will likely not break any records on the G7, just like it did not on the G6.
We like having navigation gestures on the Moto G7, even if they are the rather sloppy implementation from Google.
Moto also promises big improvements in the camera department as well, but we reserve our judgment until we actually see the photos.
So... should you upgrade to the G7 from the G6? We don't see some ground-breaking changes to do this, but if you are upgrading from an older phone, we definitely recommend spending $70 extra to get the newer G7.
Moto G7 Power vs Moto G6 Play
An even bigger, 5,000mAh battery this year with a promise for up to 3 days of battery life
Moto G7 Power
Moto G6
Play
Size & Weight
159.4 x 76 x 9.3mm
198 g
155.4 x 72.2 x 9.1 mm
180 g
Screen
6.2" LCD
720 x 1520 px
5.7" LCD
720 x 1440 px
Processor
Snapdragon 632
Snapdragon 427
RAM
3GB
3GB
Storage
32GB + microSD
32GB
+ microSD
Cameras
12MP rear cam
8MP front cam
13MP single rear cam
8MP front cam
Battery
5,000 mAh
4,000 mAh
Price
from $250
down to $180 now
The Moto G7 Power promises 3 days of battery life and sports a much bigger 5,000mAh battery cell, a big upgrade from the 4,000mAh cell on the G6 Play.
Again, we don't see an upgrade from the G6 Play to the G7 Power a necessity, but we definitely recommend users picking between the two to choose to spend those $70 extra dollars and get the G7 Power for its newer version of Android, faster processor and longer-lasting battery.