Motorola Moto G 2015 vs Moto G LTE (2014) vs Moto G LTE (2013): specs comparison
1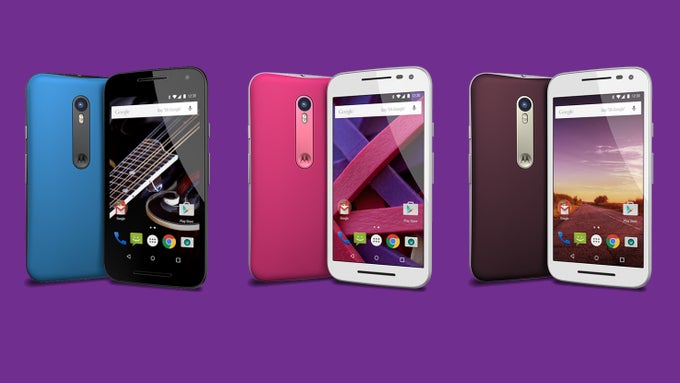 The latest generation of Motorola's bestseller, the Moto G (2015) is already official, and as usual, we couldn't wait to compare it with its predecessors, 2014's second-gen Moto G, and the original one that launched all the way back in 2013.
Despite the evolution of the different generations, one thing remained the same - the Moto G always offered a lot of bang for the buck, providing a well-rounded user experience without hurting your wallet much.
Whether you're rocking an older Moto G and looking to upgrade or eyeing the Moto G family with pleasure for the first time, you will probably want to compare the three generations of the trooper and see which one suits your needs best.
Here's how they stack up against one another.
Scratch-resistant glass, Ambient light sensor, Proximity sensor
Scratch-resistant glass, Ambient light sensor, Proximity sensor
Scratch-resistant glass, Ambient light sensor, Proximity sensor
Qualcomm Snapdragon 400
Qualcomm Snapdragon 400 8926
Qualcomm Snapdragon 410 8916
Quad-core, 1200 MHz, ARM Cortex-A7
Quad-core, 1400 MHz, ARM Cortex-A53, 64-bit
Adreno 305
Adreno 305
Adreno 306
Android (5.1 Lollipop, 4.4.4, 4.4.2, 4.4, 4.3)
Android (5.1 Lollipop, 5.0 Lollipop)
Android (6.0 Marshmallow, 5.1 Lollipop)
Single camera
Single camera
Single camera
Aperture size: F2.4
Aperture size: F2.0
Aperture size: F2.0
1280x720 (HD) (30 fps)
1280x720 (HD) (30 fps)
1920x1080 (Full HD) (30 fps)
Picture-taking during video recording, Video calling
1.3 MP
2 MP
5 MP
1280x720 (HD) (30 fps)
1280x720 (HD)
5.11 x 2.59 x 0.46 inches (129.9 x 65.9 x 11.6 mm)
5.57 x 2.78 x 0.43 inches (141.5 x 70.7 x 11 mm)
5.59 x 2.85 x 0.48 inches (142 x 72.4 x 12.2 mm)
5.04 oz (143.0 g)
the

average

is 6 oz (172 g)
5.47 oz (155.0 g)
the

average

is 6 oz (172 g)
5.47 oz (155.0 g)
the

average

is 6 oz (172 g)