Motorola MOTOLUXE hands-on
6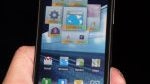 US consumers surely have something to be jealous about, well, that's because Motorola will be bringing to market one sleek looking Android powered smartphones in markets outside of the US – like Europe, China, and Latin America. Rather than bringing to market another device that seemingly incorporates the distinctive design elements found in recent devices like the Motorola PHOTON 4G, DROID RAZR, and DROID XYBOARD 8.2, the
Motorola MOTOLUXE
totally bucks the trend with its fresh and chic looks.
Crazy to believe it at first, but we're absolutely stunned to even believe that the Motorola MOTOLUXE is packing a 4-inch display – that's because it seems more like a device packing a smaller 3.7-inch panel instead. Nevertheless, the
minimal bezels
that surround its
4" qHD LCD display
enables the handset to keep a very low profile appearance, and admittedly, we smitten over the handset's
svelte looks and solid construction
. In fact, it's so different from most of the recent Motorola devices we've seen, which makes it so enticing to hold and look at. With its display, it's more than detailed when you factor in its resolution and screen size, but it appears to be merely your typical LCD panel – so colors tend to look washed out at times.
Towards the bottom corner of the handset, there's a groove that one might overlook, but interestingly enough, it's yet another standout amongst other things.
Referred to as the dedicated groove spot by Motorola
, not only does it allow you to keep the smartphone tethered to you with a strap of some sort, but it also acts as the
notifications system
as well – lighting up in a palette of colors to specific notifications. Pretty neat indeed and it actually splashes a hint of sparkle to the handset.
Overall, this beauty is being positioned as a
mid-range device
since its specs consists of an 800MHz single-core processor coupled with 512MB of RAM. Beyond that, everything else is pretty much the usual fanfare – like its 8-megapixel camera, VGA front-facing camera, 1,400 mAh battery, Bluetooth, aGPS, Wi-Fi, and the usual customized BLUR skin running on top of Android 2.3 Gingerbread. Frankly, this one boast one impressive design that's guaranteed to attract a lot of attention.