Motorola MILESTONE 2 & Defy spotted in the flesh during IFA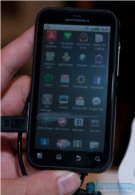 Although some would be bold to say that the Motorola DROID 2's luster isn't at its potential due to its CDMA flavor, the
Motorola MILESTONE 2
should appease those individuals because it's identical in almost every way, but a GSM device. During IFA, both the MILESTONE 2 and rugged Defy were spotted just hanging out for all to see.
Needless to say that the MILESTONE 2 replicates the design of the DROID 2 in every way, which is a good thing, but it does feature some improved specs over its CDMA brother. As we reported before, the MILESTONE features, a 3.7" display with a resolution of 480 x 854 pixels, 5-megapixel auto-focus camera, HD video capture, 1GHz processor, 8GB on internal storage, and its improved QWERTY keyboard.
On the other hand, the actual device of the
Motorola Defy
seen during IFA has a white colored bezel that wasn't seen with its rendered images. Still, it could potentially still be some kind of pre-production unit, but this rugged style handset features a 3.7" Gorilla Glass display, 5-megapixel auto-focus camera, 2GB of internal storage, Wi-Fi, GPS, and 3G.
Both Android powered smartphones were found over at Vodafone's booth, so it's looking like that the carrier will be offering both handsets some time down the road.
Motorola Defy Specifications
Motorola MILESTONE 2 Specifications
via
Unwired View