Motorola Droid 4 to launch on February 2nd?
33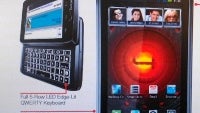 We've been hearing reports about an early arrival of the next flagship for the Droid lineup - the
Motorola DROID 4
, but rumors spread earlier that the device may be delayed and now there's even more evidence for that. A leaked screenshot allegedly coming from Verizon's system shows that the
release date of the Droid 4
was moved to February 2nd, 2012.
Now, we have no information what is this related to - most recently Verizon devices like the Droid Bionic have been commonly delayed because of 4G LTE issues, so that's our best guess here.
At the same time though this is yet another unofficial confirmation that the Droid 4 is indeed real and coming soon. Expecations for the Motorola DROID 4 list a a 4-inch qHD display, full-QWERTY keyboard, a 1.2GHz dual core processor, 1GB of RAM, 16GB of storage and an 8-megapixel camera.