Motorola DROID 4 Review
58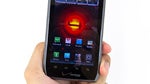 Introduction:
Catapulting Android as we know it to the mainstream, we're amazed to think that the original
Motorola DROID
launched into stardom only a mere 2 years ago. Since that time, we've seen two successors that maintained its landscape QWERTY form factor, but as a whole, they didn't have the same impact found with the original starter. One of the biggest complaints about the
Motorola DROID 3
, which was launched a little more than 7 months ago, was the fact that it lacked 4G LTE connectivity and simply relied on last-generation 3G speeds – so yeah, it was a bummer in that aspect indeed.
Taking care of business, the
Motorola DROID 4
rightfully eases the concern from last time, while employing some of the necessary iterative improvements on the hardware side to keep it in good light with the company. Some have argued that the DROID line has been on a steady decline in terms of allure and reputation, especially when the
DROID 2
and 3 didn't quite have the same profound impact like the original, but as always, we're hopeful that the latest member of the family will bring back the spotlight to it. For starters, its $199.99 on-contract pricing surely looks mightily delicious, but it's undoubtedly going to take more to become humbly memorable.
The package contains:
microUSB cable
Wall Charger
Removal Tool
Master Your Device Guide
Product Safety and Warranty Information
Design:
Bearing the same tried and true landscape QWERTY form factor as its predecessors, this new model obviously features a tweaked design – though, as a whole, it's doesn't come off as captivating. Actually, it utilizes the same design characteristics used on recent Motorola devices, like the
PHOTON 4G
and
DROID RAZR
, with its subtle tapered edges and sturdy construction. At the same time, it features water-repellant technology that allows it to withstand a few splashes of water, but it's not entirely waterproof.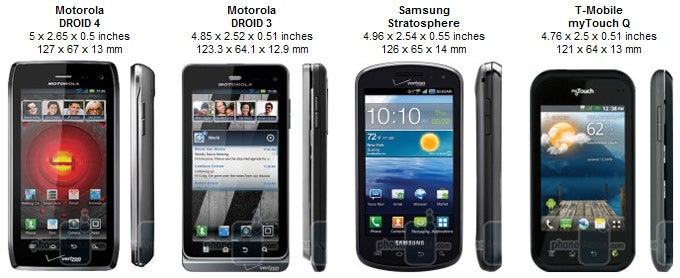 You can compare the Motorola DROID 4 with many other phones using our
Size Visualization Tool
.
Interestingly enough, this is the largest one in the DROID family thus far, but thankfully it retains its streamlined 0.5" profile, which is great considering it's packing a physical keyboard. Finally, its accompanying weighty (6.31 oz/179 gr) feel provides us with a sense of durability with its overall construction. Improvements and tweaks aside though, its design is hardly one that's going to be remembered or laureled throughout time, and in all honesty, we were hoping for something more refreshing to jump out at us.
Accidental presses aren't an issue with the Motorola DROID 4's
capacitive Android buttons
, mainly because they're positioned far away from the bottom edge. Above the display towards the upper right corner, its
front-facing 1.3-megapixel camera
actually has the ability to shoot 720p videos.
Unfortunately we're not fans of its dedicated
power button and volume controls
, since they're rather flat to the touch and have a soft response when pressed. Knowing that this is a Webtop enabled device as well, its
microUSB and microHDMI ports
are found next to one another on its left edge – thus, allowing many of the existing Webtop accessories to work with it.
Towards the top edge in the rear, there's an
8-megapixel auto-focus camera
with its accompanying LED flash nearby, while its speaker grill is located on the lower left corner. At first, the pinhole next to the camera seems to be a directional microphone, but in actuality, it's used to remove the back cover with the aid of the included removal tool to gain access to its
microSIM and microSD slots
. Strange to say the least, the 1,785 mAh
battery
is actually non-removable and is hidden from view by a sticker that explicitly states the warning to not attempt removing it. Maybe it's poor engineering on Moto's part, but it boggles us that they would allow access to the battery, but not give us the option to remove it ourselves. Heck, they could've shut the entire thing closed a la the DROID RAZR and place its slots elsewhere.
Keyboard:
We're undeniably taken by surprise to see Motorola managing to somehow improve upon the fantastic keyboard of the DROID 3 from last year. Getting down right to it, we have to admit that we're smitten by its functionality, ease of use, and spacious nature to make it probably the best QWERTY-based smartphone on the market. Retaining the same layout as before, with its dedicated row for numbers and navigational keys, it's tweaked ever so slightly by its domed buttons and exceptional LED backlighting – in fact, we're mesmerized by its glow in the dark! Furthermore, we're treated to the same solid feeling tactile response as before, thus, all culminating together to offer the best messaging experience on any device out there right now.
Display:
Call it a bummer or whatever, but we're saddened to find this DROID outfitted with such an inferior display. Unlike the iridescence accompanying the DROID RAZR's Super AMOLED Advanced display, the DROID 4 is instead boasting a 4" qHD (540 x 960) TFT LCD display that's tremendously dulled by its washed out appearance, low-contrast, and poor viewing angles. Additionally, it has this ghosting effect going on that seems to blur icons when navigating across its homescreen. Well, at least its resolution is enough to enjoy wholeheartedly thanks to its pixel density of 275 ppi, which produces sharp visuals that's easy on the eyes. However, we're unable to overlook the distracting overall appearance of the display, and simply, there's no love whatsoever for this DROID.
Motorola DROID 4 360-degrees View: