Motorola DROID software update page is posted by Verizon (new video)
30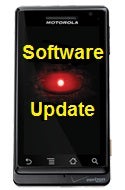 Remember last month when we reported that the
Motorola DROID
had a
software bug
that caused problems with the camera's autofocus? At that time, we were told by insiders that a software update was in the works and with a target date of December 11th. Today, Verizon has posted a
DROID Update page
with information and instructions on how to perform the update, once it's released. The
PDF file
states the
new software version as ESD56 with Baseband Verizon C_01.3E.01P
(DROIDs ship with ESD20 and C_01.3B.01P) and will have improvements in the OS stability and battery life, camera autofocus fixed and time between shots reduced, enhancements for 3-way calling, audio for incoming calls improved, speakerphone remains on when using call-waiting, Bluetooth echo is removed and improved phonebook transfers, GPS, messaging, Google contact merging, Visual Voice Mail, and corporate calendar widget updated. The
Instruction page
starts off by showing that you will be notified (on the DROID) when the new upgrade is avaliable, and will need at least 40% battery to complete the upgrade. It will ask you to "Install Now" or "Install later", which will then prompt you again in 30 minutes. Clicking on "More Info" says that the upgrade is 10.2MB in size. Once the process begins, it will restart the phone and begin the installation. However, if you are Roaming, you can only perform the upgrade by connecting to a Wi-Fi Network. Unfortunately, the actual date of the software's availability isn't posted on the site, so all we have to go with is the Dec 11th date we were told about last month, nor does the site say if this will upgrade the DROID from Android 2.0 to
2.1
. We checked with our DROID unit, and no update was listed as of yet.
Thanks to David for sending this in!
Motorola DROID Review
|
Specifications
source:
Verizon Wireless
*UPDATE 1*
We have also been told the Unlock Screen has now changed and the Android OS is listed as 2.01, so we'll have to wait a bit longer to see Android 2.1 on the DROID.
*
UPDATE 2
*
Here is a video posted to
YouTube
showing the Motorola DROID after the software update.