Motorola DEFY MINI hands-on
4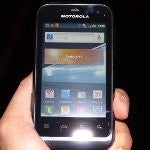 When it comes to rugged style Android powered smartphones, you really can't help but look at
Motorola
with this one – namely because of their
DEFY
line of smartphones. Knowing that they're built to withstand more than the normal amount of punishment that a typical smartphone is exposed to, they actually have an affordable model that's sure to give those on a budget something good to be excited about.
At first glance, the
Motorola DEFY MINI
seems to be some sort of inconspicuous looking entry-level smartphone, but after playing with it, you get a sense that it's built to withstand some harsh torture. Its
3.2" HVGA display
hardly impresses us, as well as its overall bland looking design, but the latch on the back of the phone means it's going to keep its internals free from damage. From what we're told, the Motorola DEFY MINI is
waterproof
, so small spills or accidental dips into your kitchen faucet won't be deadly. Also, it comes with
Gorilla Glass
to soundly keep the sturdy nature of the device intact – so scratches or cracks won't be too much of a concern in the event of an accidental drop.
Specs-wise, it's nothing to write home about, especially when a
600MHz processor
is chugging away behind the scenes. Frankly, it's not known to be a speed demon, which is evident by its less than point response with some operations. Call it the kiss of death, but you'll want to really think long and hard about this one since it's running
Android 2.3 Gingerbread with MOTOBLUR
on top of it – with a close zero chance of getting Ice Cream Sandwich someday.
Yes, its specs are barely going to budge some people, as well as its overall bland design scheme, but it's nice to know in the back of our minds that it's going to be an affordably priced smartphone. Additionally, you can't beat that this guy is rugged enough to handle drops and spills!