Motorola Acessories, not Lenovo related, is offering two new products in the U.K.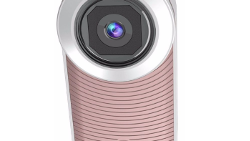 Back in September 2015, consumer electronics firm Binatone Global acquired the exclusive licensing rights to design, develop and market certain Motorola accessories. Binatone's Motorola Accessories division recently announced the introduction of two new products. The first is the
Motorola Dash Cam
. This is a smart camera for your automobile featuring a 2.7-inch LCD display. The camera records in 1080p and carries a 120 degree wide angle lens. It comes with a microSD slot for those who need additional storage.
Available in Black, Silver and Pink, you might wonder how this product could help you if you're not a cop. With the Dash Cam, you can capture any accident on video, which would provide definitive answers to questions posed by insurance companies and law enforcement officials. It records in a loop meaning that older footage is taped over by the latest recording. The Dash Cam is available online from Argos, and is priced at the equivalent of $73.05 USD. That is a 25% discount from the usual price. You can pick up one for you and another unit for your spouse's car and pay only $121.75 USD. That is another 17% haircut.
The second product is the Motorola VerveLoop. These are called "Sports Headphones" and are wireless. They use Bluetooth and offer CD quality audio. Priced at the equivalent of $42.61 USD, the VerveLoop is available in Black and Silver. It also is protected from spills, splashes and light rain. These are also available from Argos.
If interested in either product, you can click on the appropriate source link. Keep in mind that neither of these two products have anything to do with Lenovo.
source: Argos (
DashCam
), (
VerveLoop
) via
MotorolaFan