Moto Z3 Play lands with free Battery Mod, and deep Google Lens integration
1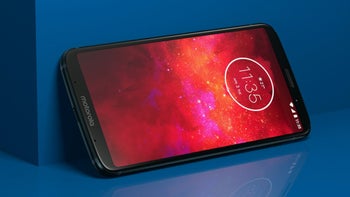 After filling the low-end with the
G6 family
, it's time for Motorola to work its way upwards in the 2018 phone crop by announcing the successor to its successful
Z2 Play
midranger from last year, dubbed lovingly... the Z3 Play, what did you expect.
Design
While Motorola has upgraded specs where it matters, like the processing power, and the camera area, the biggest changes from last year's generation, to the new Play, are in the design. Sporting the trendy tall an narrow screen aspect ratio, the Z3 Play manages to fit a 6" 1080 x 2160 pixels AMOLED screen in the same dimensions it has a 5.5-incher on the Z2 Play. The culprit? Bezels that are shaved off, though not to the extent of some high-end Android models.
The splash-resistant glass body is a bit heavier than its predecessor, though, and a bit thicker, so gone is that amazing sub-6mm thin housing of the Z2 Play, replaced by a sub-7mm on the successor, which is still pretty amazing. The camera still protrudes quite a bit, so that official thickness is with a bit of cheating, yet the circular area that hosts the sensors and lens is giving the phone that signature Moto look, so no complaints.
Motorola Z3 Play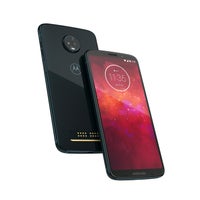 Camera
We say lens, as this time around, the Z3 Play sports a dual camera set – one 12 MP sensor with
1.4
micron pixels, same specs as before, and one 5MP depth-sensing sensor for superior portrait and bokeh shots. The selfie cam is an 8MP affair with smallish 1.1 micron pixels, wide-angle lens to fit more folks in the frame, screen flash syncing, and 1080p video abilities.
Specs
At that thickness, we wouldn't expect a huge battery, and, indeed, the Z3 Play is equipped with a 3000mAh pack, as before. It runs near-stock Android
8.1
Oreo, though, and, knowing how Motorola optimizes its phones, we'd expect pleasant battery life surprises.

Price, release, and perks
Now, as far as those little oddities that can make a phone interesting, or ruin it down, the Z3 Play has them, and we aren't talking about the Moto Mods compatibility, as it can work with the snap-on camera, extra battery, or speaker system no problemo.
First off, the finger scanner is on the right side, so those who say rear or front scanners are best will now be able to chill. Second, it's the first phone with deep Google Lens integration, so you will, for instance, get direct landmark and object recognition in the camera app, as well as text scanning in translation there, all powered by Google Lens. The phone has a single nav bar with plenty of gestures to go around, again following the "all-screen" trend in navigation.
Last but not least of the little perks, the Z3 Play will ship with the Battery Mod, so, even if it has a decent endurance on a charge, and turbocharging, you'd be able to snap on the extra battery for a weekend away from civilization at no extra cost. The cost in question will only be $499 for the unlocked Z3 Play. The phone will also be available on Sprint this summer. Any takers of the Deep Indigo?
UPDATE:
Moto has reached out to us to confirm that the
Moto Z3 Play
will be available on U.S. Cellular. The phone will also launch unlocked with retailers including Best Buy, Walmart, Target, Fry's, B&H Photo, and as a Prime Exclusive Phone on Amazon.com. Priced at $499, the phone will be bundled with a Battery Moto Mod.