Moto Z2 Force to be unveiled in India on February 15th; phone will come with a free TurboPower Pack
1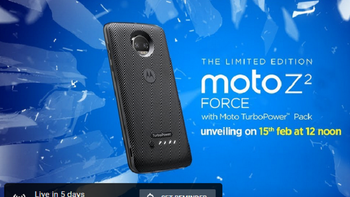 Last month, we showed you
renders allegedly revealing what we will see from the Moto Z3 and Moto Z3 Play
. These two models will reportedly feature 6-inch screens carrying an 18:9 aspect ratio and a 1080 x 2220 resolution. In addition, the Moto Z3 display appears to have dual curves. We will see the Moto Z3 and Moto Z3 Play released later this year. Right now though, the top-of-the-line
Moto Z2 Force
is preparing for a release this month in India.
On February 15th, Motorola will unveil the Moto Z2 Force for the world's second largest smartphone market, streaming the event live over its Motorola India YouTube channel. Pricing and availability will be announced at the time. As you can see from the image at the top of this story, each Moto Z2 Force unit sold in the country will come with a Moto TurboPower Pack. This accessory is a case that will add an additional 3490mAh of battery power to the 2730mAh capacity of the stock battery found inside the phone.
The Moto Z2 Force is equipped with a 5.5-inch p-OLED ShatterShield display. According to the manufacturer, the display and embedded lens are warranted against shattering and cracking for four (4) years from the original date of purchase.
Earlier this week, we told you about a problem that some Moto Z2 Force owners were having with the top layer of the ShatterShield screen. The protective layer, which is designed to be replaced since it can get scratched up,
has started to peel on the corners or by the front-facing fingerprint scanner
on some units. Normally, it would cost owners $49 to replace this protective cover, but today we learned that Motorola is offering affected Moto Z2 Force users a free replacement.
source:
MotorolaIndia