Moto G4 and G4 plus get a set of funny and cute video ads
4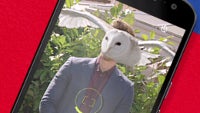 Surely you remember the Moto G4 and G4 Plus — the latest members of the bang-for-buck Moto G line. With larger and sharper screens, huge batteries with quick charging, and a promising camera, fingerprint sensor, and generous amounts of RAM on the G4 Plus model, they look like very promising midrangers, capable to keep up with today's ever-growing requirements.
So, the new phones were just announced a week ago and, naturally, there are going to be some ads coming out to support them and keep them on the public's mind. And Motorola (Lenovo?) has chosen to go with cheeky, humorous ads. Are they successful? We'd say so, yes.
The first ad flaunts a superior processor on the Moto G4, the second one suggests that it is wise to always keep your phone locked, suggesting the G4 Plus' fingerprint sensor as a speedy solution, and the third one vows amazing speed and performance of the camera.
The three 30-second clips are certainly on the entertaining side. Definitely not as
confusing
, plain
weird
, or just down right
cringy
as some of Moto's competitors have been in the past. Check them out below — did you enjoy them?