Moto 360 Gray Leather seemingly replaced by Stone Leather, price stays the same
8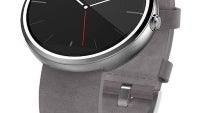 Moto 360 Gray Leather now replaced by Stone Leather, price stays the same
When it (finally) launched, the Moto 360 could be had with a black or gray leather strap. Of course, Motorola never kept it a secret that the timepiece will be available with straps in other colors too. It just didn't tell anyone when, which actually made for a nice surprise in the end.
Out of nowhere, the Moto 360 showed up online with a new "stone leather" strap. Apparently, it was designed to replace the Gray Leather color, as this one is no longer on sale. But then again, it's not like Stone Leather and Gray Leather look
wildly
different now, do they? Check out the comparison photo in the gallery below. The Stone Leather watch is the upper one.
As of the time of writing, the new color hasn't appeared on Google Play store, but the page lists both the Black and Gray versions as being out of stock. This probably means that it's getting updated. Let's hope more new colors will follow! Oh, and the price is the same as it has always been - $250.