Most U.S. carriers will offer Motorola Moto X with unlockable bootloader
7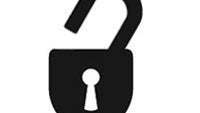 One day after the introduction of the
Motorola Moto X
, the company's VP of Product Management, Punit Soni, revealed some further information about the phone. According to the executive, the version of the Moto X that will be released by Sprint, T-Mobile, U.S. Cellular and Rogers will come with an unlockable bootloader that will be locked out of the box. However, using Motorola's tools, the bootloader can be unlocked.
You might notice the absence of AT&T and Verizon from that list of carrier names. That would seem to indicate that the version of the phone for both operators will be equipped with a locked bootloader that can't be unlocked. But Verizon was named by Soni as one carrier that will be offering a special
Developer Edition
of the phone which will presumably offer an unlocked bootloader. There also will be a North American Developer Edition which should be an unlocked GSM model with AT&T compatible bands.
Those looking to flash custom ROMs and join the hacker and modder crowd with the Mototora Moto X are going to want to be able to unlock the bootloader on the device. Thanks to the two Developer Edition models, it looks like all of the carriers offering the phone in the U.S. will have a model with a bootloader that can either be unlocked, or will come unlocked.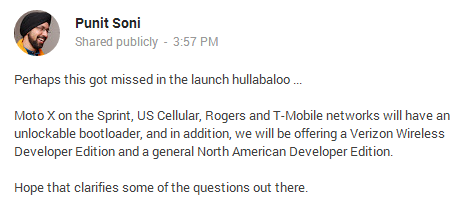 Motorola's Soni explains the bootloader situation on the Moto X
source: +PunitSoni via
AndroidCentral