More details on BlackBerry KickStart Flip Experience
This article contains unofficial information.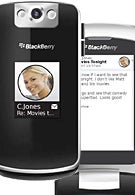 Kickstart
? The information about the first BlackBerry clamshell phone is coming in small pieces, but we are trying to keep you informed on every piece of it. It is yet another consumer-friendly smartphone for the young, hip crowd, in addition to the Pearl and Curve.
In contrast to previous information, it is now reported to use the 5.0 version of the OS instead of 4.6 (expected in the Bold). Once opened, it is a standard BlackBerry with SureType keyboard and a QVGA display, but when closed, it will offer (as many clamshell phones do) basic information on the external display, such as notifications for missed calls, new messages, etc.
source:
Crackberry