Minecraft Pocket Edition finally available for most
19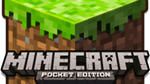 About two weeks ago, we told you that Minecraft Pocket Edition would become available for all Android devices by
September 29th
. Obviously, that didn't happen, because there was a major bug that needed to be ironed out before the release could be made. Now, that bug has been ironed, and Minecraft is available for most Android devices.
We say most because you need to have the horsepower to run the game, but not many have complained about the game not running well. We tested it out on a Nexus One, and it worked perfectly fine. Although, we should mention that even if you are a die-hard Minecraft fan, this is an extremely limited version of Minecraft. By that, we mean there is no mining and no crafting. The game gives you an array of blocks and torches and you can build and destroy, that's it right now.
If that sounds good, you can pick up Minecraft in the
Android Market for $6.99
. Although if you want to try it out to make sure you like it and that it runs well on your device, there is also a
demo version
that you can try out.