Microsoft to start herding Messenger users to Skype on April 8th
0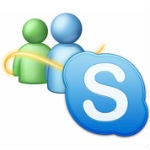 We've known for a while that Microsoft was planning to make Skype the
focal point
of its messaging software, and to slowly phase out Live Messenger. The big move now has a date. If you haven't upgraded your Live Messenger account to Skype yet, Microsoft is going to force you to move over starting April 8th.
On that date, Microsoft will start barring users from signing in to Messenger on that date and push users over to Skype. Microsoft will start with English users and then expand out by language rather than by region. The last group to be forced over to Skype will be Portuguese speakers at the end of April. The Skype installer will even be pre-cached on machines to make the switch easier.
There had been a rumor that Microsoft would completely cut off Messenger service in March, but that will not happen. Third-party apps should continue to work beyond the date in April. Microsoft says that the forced move will not affect Windows 8 and Windows Phone users, although it's best to get rid of Live Messenger on your Surface or other Windows 8 machine, because you may start getting two notifications on new messages.