Microsoft lifts the Adobe Flash restrictions in Windows 8/RT, no word on Silverlight
28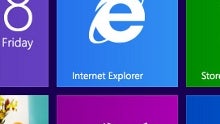 Microsoft was afraid that the workload posed by Adobe's Flash will hinder the performance of the UI formerly known as the Metro interface in Windows 8/RT, that's why it loaded its IE10 browser with modern web techniques, but put the kibosh on Flash, and you had to manually add site exclusions.
Flash is not going anywhere any time soon, though, so Microsoft seems to be listening to its customers, and outed a blog post where it details that all the restrictions on Adobe Flash usage are now lifted, save for a very few sites that it deems incompatible with the new interface experience:
As we have seen through testing over the past several months, the vast majority of sites with Flash content are now compatible with the Windows experience for touch, performance, and battery life. With this update, the curated Compatibility View (CV) list blocks Flash content in the small number of sites that are still incompatible with the Windows experience for touch or that depend on other plug-ins.